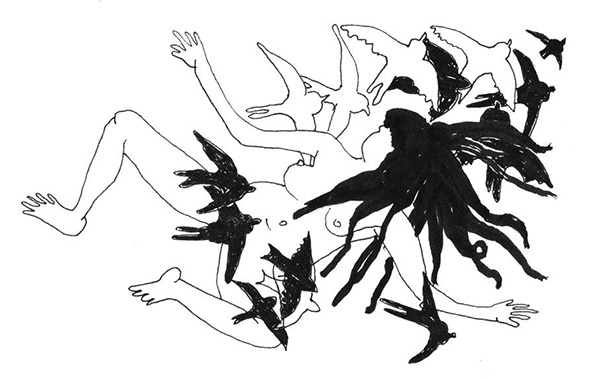 Lou Montézin, Femme-oiseaux.
Writing Workshop
« Our "angered" bodies / Our "past" bodies »
Hosted by Sigrid Carré-Lecoindre, autrice et dramaturge.
Writing workshop for gendered people. Including trans men and women, and non-binary people.
Saturday, December 9th 2023
10:00am > 1:00pm
" (…) PERSONNE /
JAMAIS ne dit ça, là, un SEUL corps, pour combien de vies parallèles, de contradictions, COMBIEN de paradoxes. Et les centaines de milliers de minutes d'une existence entière — personne ne SAIT — si la peau va tenir. "

SO/MA, Sigrid Carré-Lecoindre, 2022
Theme:
Re-invoking our bodies as spaces of belonging and power. As – sensitive vehicles. Writing intimate bodies. Traumatic and scarred bodies.
Writing through bodies. Glorified. Empowered.
Objectives:
Encourage people to meet. Strengthen social ties. Combat isolation. Reinvest our stories. Invoke our feelings of shared history.
By collecting and archiving anecdotes and testimonies, oral improvisation and writing exercises (monologues, dialogues, scenes and portraits), the participants will be invited to summon up their intimate histories (birth and death). Participants will be invited to tell their own intimate stories (of bodies being born, initiatory bodies, first experiences, abortions, transitions, childbirth, the menopause, illness, bodies that have been beaten, loved, hidden, stolen, raped, bodies that are enjoying themselves, ageing bodies, bodies that have been fantasised about, kidnapped, tattooed, claimed, etc.).
Method and teaching input:
Understanding the tools of monological construction.
Understanding the notion of the sensitive portrait.
Working independently or in groups, improvisation exercises, sympathetic listening, oral or handwritten writing.
Sigrid CARRÉ-LECOINDRE / Author, playwright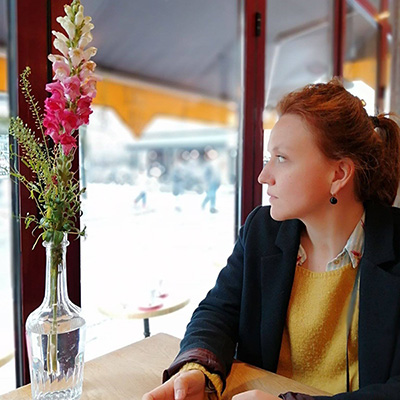 A musician by training, Sigrid CARRÉ-LECOINDRE completed a Master's degree on the interconnections between music and theatre in contemporary dramaturgy at the Institut d'Etudes Théâtrales in Paris in 2010. Since then, she has divided her time between her activities as a musician – and as an author and playwright.
In 2020, she wrote a fictional documentary for "L'Expérience" (France Culture) entitled CARAMBOLAGE(S), based on her own traumatic experience.
The year 2020 also saw the creation of the Lemon Fracas company, which she co-directs with mezzo-soprano Agathe de Courcy, and in which she created the show WHICH IS? – Women who sing are dangerous.
Sigrid CARRÉ-LECOINDRE is the author of several plays, including:
RHAPSODIE SANS VISAGES, – theatrical poem selected for the first edition of Snez tu Zabu (Festival of Contemporary French Theatre in Prague) in March 2015.
LES COEURS TÉTANIQUES – poetic ambulatory – created in May 2016 at T2G (Centre dramatique national de Gennevilliers). Selected for the 2016 Mettre en scène festival in Rennes.
HEDDA – freely inspired by the life of Hedda Nussbaum, a monologue about domestic violence premiered in January 2018 at La Passerelle – Scène Nationale de St Brieuc, commissioned and directed by Lena PAUGAM. HEDDA was published by Editions théâtrales in June 2019.
SO/MA commissioned by director Floriane Comméleran. First performed in October 2023 at the ABC, centre culturel de la Chaux-de-Fonds (Switzerland) and in December 2023 at the Scène Nationale 61 (France).
POISSONS TROUBLES, Poem for male choir, premiered in June 2023 in Paris by the queer choirs Les Mélo'mens (France) and The Sunday Boys (England).
SI VÉNUS AVAIT SU, commissioned by director Margaux Eskenazi. First performed on 20 January 2024 at the Théâtre de la Poudrerie, Sevran. Then on tour in the Île de France region.
TUULI, script in progress (Cie Lemon Fracas). Creation December 2025.
Since 2020, Sigrid CARRÉ-LECOINDRE has also been Plume, for the self-publishing company l'Arbre de Papier, aiming to put her talents as an author at the service of those who wish to put into words the story of their entire life.
Keen to combine a commitment to society with a commitment to the arts, she has developed a sustained teaching practice alongside her work as an author, setting up writing and drama workshops and courses for adults, children and teenagers.